Classes
CLASSES 2017
LIVE on Facebook –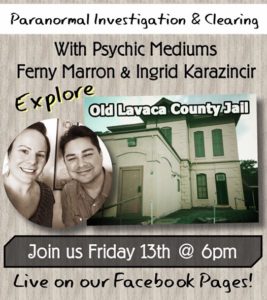 Friday 13th! Ferny Marron and I explore a haunted jail! Join me on Facebook to watch!
Spirit Gallery: Group Readings
Sat Oct 28 @ 4-6 pm at Metaphysical Matrix 2727 Fondren Rd, Houston
Receive messages from your Angels, Spirit Guides and those who have passed into the spirit world in a magical evening of insight and healing. Feel the Angelic energy as we call in the Angels to heal and clear away old issues and bring in energy to help you move forward successfully on your life path. Bring an item or photo if you wish to connect with someone in particular. Hope to see you there!
Fee: FREE, donations appreciated. Happy Halloween!
Halloween Spirit Gallery: Group Readings
Mon Oct 30 @ 7:00 pm – 8:30 pm in Sugar Land, TX
Experience the lifted veil on All Hallow's Eve, where the space between worlds can be seen and heard more easily. Join us for a special Spirit Gallery, where those who have passed and your angels and guides open up to you. You will receive a reading and hear what messages others receive as well, all channeled with the assitance of Angels in a high vibration group energy. A healing experience for everyone! And it's FREE! Donations are appreciated.
Please email ingridxalice at gmail.com to get the address.
…
Mediumship 101

Sundays in Oct @ 2:00 pm – 4:00 pm in Sugar Land, TX (Oct 1, 8, 15, 22, 29)
Fee: $99 for 5 weeks prepaid OR $25 drop-in
.
Are you experiencing visions, energy, a sensitivity to the other side? Maybe you have since childhood. Take your natural abilities to another level with Mediumship 101. In this class you will learn the basics in psychic protection, creating boundaries, learning about energy and how to use it, and how to build a deeper relationships with your spirit guides and angels. You will learn to speak to those on the other side and how to help others receive their loved ones in 1-on-1 readings. Every class stands on its own with hands-on exercises and discussion, but the more you practice the better you will become at channeling. Take the entire month for maximum benefit. Hope to see you there!
.
"Thank You Ingrid for taking time to help us with our unfoldment. I am very happy of the pace and the open environment you provide for our spiritual growth, you are a blessing to everyone in your group!" –Bruce, Houston
.
Ingrid Karazincir is a professional Medium and spiritual teacher with over 20 years of experience in the metaphysical field. Find out more at IngridKarazincir.com or to pre-register. Cash or credit card can also be taken in class.