Divine Guided Meditations CD
Experience a new collection of Guided Meditations from Ingrid Karazincir! These meditations are divinely channeled from Ingrid's Angels, bringing light to a variety of topics. Go on an inward journey and discover answers to life-long questions, find peace and healing in the vibration of the angelic tone and be supported on your spiritual path.
When you listen to the CD every day for just one week, you will discover:
A heightened state of awareness
A deeper sense of peace and joy within
More patience and love for others
Stronger relationships
A clearer sense of soul life purpose
Healing of issues and unhealthy habits naturally
A positive attitude and sustained daily happiness
ORDER YOURS TODAY for ONLY $10.00 (plus tax & shipping)! Please allow 5-7 business days for delivery.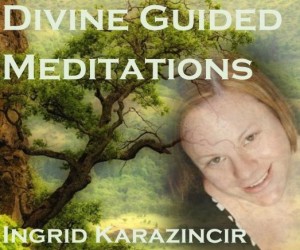 01 – Introduction
02 – Divine Feminine
03 – Divine Connection
04 – Channeling Loved Ones
05 – Ascension Grid
06 – Homeworld
07 – Angelic Self Healing
08 – Forest Meditation
(Approx 60 minutes)
SPECIAL! Buy my BOOK and CD for only $15 (plus shipping) now!